These three ingredients were put on this earth to go together.
These flavors work together like a dream – the sweet beets, salty goat cheese and earthy walnuts make for a delicious dish. The dressing has olive oil, balsamic vinegar and honey which helps bring it all together. Is your mouth watering yet?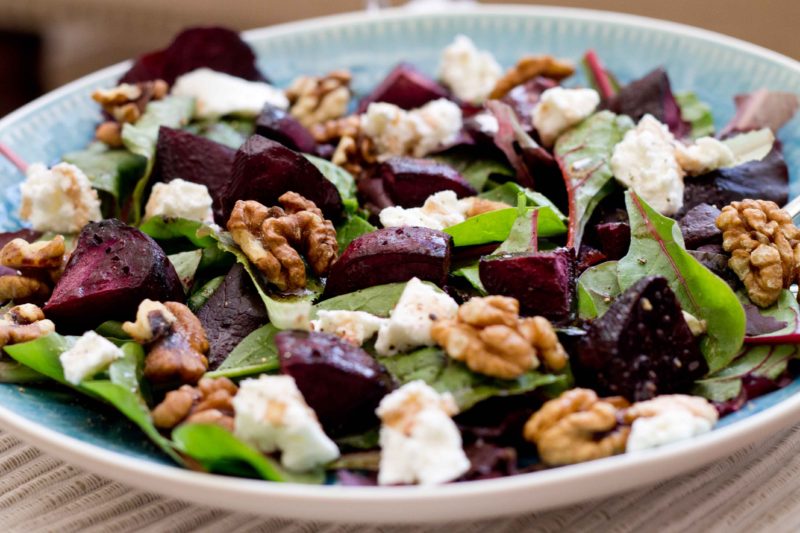 – 8 cups baby spinach leaves, stems trimmed, washed, and dried
– 1/2 cup whole or chopped toasted walnuts
– 1/3 cup crumbled goat cheese
– 1.5 tbsps of extra virgin olive oil
– 2 tsps of balsamic vinegar
– 1 tsp of honey
– A pinch of salt and pepper
Preheat the oven to 400F. Peel the beets, chop it into bite-sized pieces and drizzle with half a teaspoon of olive oil. Roast in the oven for around 30 minutes. After this time, the beets should be cooked all the way through, but it should still have bite. Once it's cooked, remove from the oven and set to one side.
Wash the salad leaves before placing them on a plate. Place the beets on top, before crumbling over the goat's cheese. Now add the walnuts.
For the dressing, combine olive oil, balsamic vinegar and honey. Mix well before drizzling over the salad.
We like to cut corner with Baby Beets from Trader Joe's.  Simply slice them and warm them up on a skillet with olive.  🙂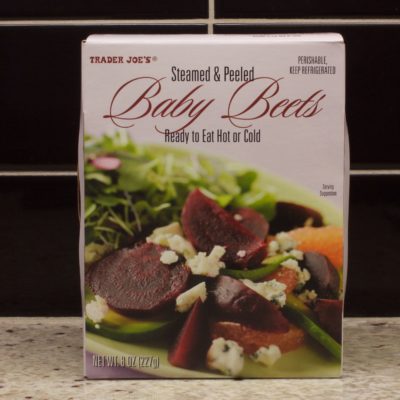 Save