Latin Chipotle Quinoa Salad with Avocado
This simple quinoa salad gets tons of flavor from a dressing of chipotle peppers in adobo sauce sweetened with honey over crunchy veggies and huge chunks of avocado.
This salad's veggie component has a distinctively flavorful flair, in large part to grilling the corn. Now, you could go ahead and use frozen corn if you'd like, but you'll be missing out on the smoky flavor that comes from grilling the corn.
Ingredients
3 cups chicken broth or water
2 cup tri-color quinoa
2 teaspoons kosher salt, divided
2 ears of grilled corn, husks removed
1 red bell pepper, cored, seeded and diced
1 cup cherry tomatoes, halved
1 15-ounce can black beans, drained
½ cup chopped red onion
⅓ cup chopped fresh cilantro
4 avocados, seeds removed and cut into 1-inch chunks
½ cup vegetable or canola oil
⅓ cup fresh lime juice, from about 4 limes
2-3 canned chipotle peppers in adobo sauce, minced, plus 1-2 tablespoons adobo sauce (to taste)
2 tablespoons seasoned rice wine vinegar
2 tablespoons honey
2 teaspoons cumin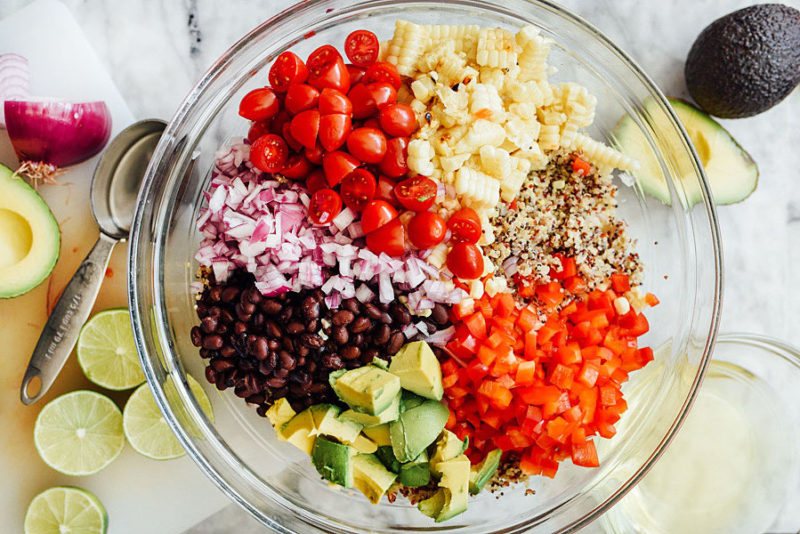 Instructions:
Bring chicken broth to a boil in a medium saucepan. Add the quinoa and season with the 1 teaspoon of kosher salt, bring back to a boil then reduce to a simmer and cook for 20 minutes or until the broth has absorbed and the quinoa is tender with the "tails" of the quinoa appearing. Add more broth or water as needed. Spread the cooked quinoa on a baking sheet to cool. When cool, add to a large serving bowl.
Meanwhile, heat the grill to high and grill the corn, turning occasionally, until the corn is tender and charred in spots, about 5-10 minutes. Cut the corn from the cob and add to a large bowl with the red bell pepper, cherry tomatoes, drained black beans, chopped red onion and avocado chunks and sprinkle with the chopped cilantro.
In a small bowl, mix the vegetable oil, lime juice, chipotle peppers and adobo sauce, rice wine vinegar, honey cumin and remaining 1 teaspoon kosher salt. Whisk together and taste for seasonings and spiciness of the chipotle peppers. It should taste pretty spicy as it will dilute once added to the quinoa.
Drizzle over the quinoa and vegetables and gently fold to combine, taking care with the avocados so they don't break apart.
Taste for seasonings and add more salt to taste. If you like it more spicy, mix more adobo with 1 -2 tablespoons of vegetable oil and fold in.
Sprinkle with more cilantro if desired. Can be refrigerated overnight if desired.