This celebration is based on our roots; creating that "the way it was on the block" vibe we experienced growing up as New York Latinos (Neoyorquinos).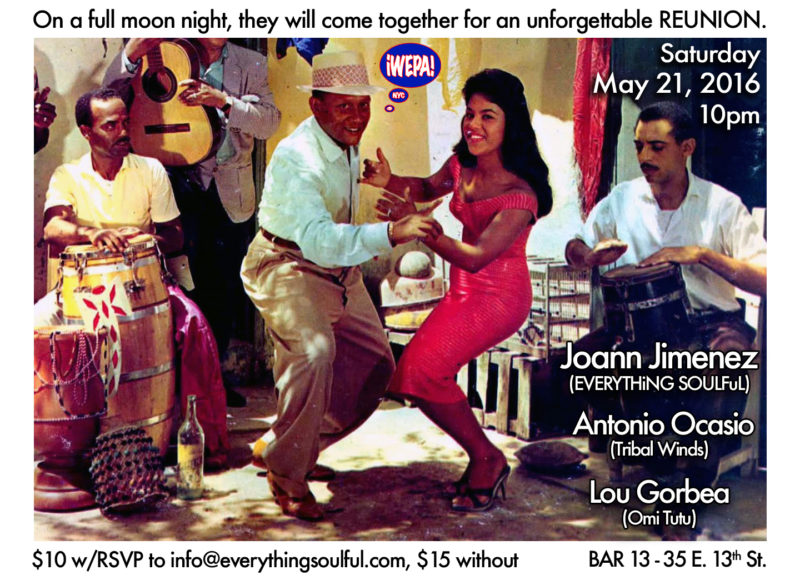 Yes, that's right! You've been asking us for a WEPA party now for the past few years and we are back at our original home for one night! You will not want to miss this very special occasion.
Our soundscape incorporates the wide range of our culture's musical wealth, blending Afro-Cuban, Latino Tribal, Orisha chants and straight up percussive rhythms mixed in with old salsa classics and other lovely sounds that live inside them… house music.
We are cultural and musical preservationists. We bring people together to honor our roots and pay homage to our ancestors through music, drum and dance. ¡WEPA! provides a foundation and shrine to experience the true meaning of tradition, joy and freedom.
Joann Jimenez (EVERYTHiNG SOULFuL)
presents:
A WEPA REUNION
on a full moon night!
Antonio Ocasio (Tribal Winds / SoulCiety)
Lou J. Gorbea (Omi Tutu Productions)
$10 with RSVP: info@everythingsoulfu.com
list closes on Saturday, May 21st at 5pm
one name per RSVP. You will receive confirmation.
$15 without RSVP
21+ with Picture ID, no exceptions