Moonstone: Insight and Balance Sterling Silver Studs
"I am balanced and in tune with all my emotions."
Moonstone is associated with your Inner Goddess, a symbol of fertility and sensuality. The life-giving feminine figure is an empowering visualization that gives us the gift of increased intuition, the perfect prescription for cleansing the mind of negative emotions holding you back.  The Moonstone reminds us to go with the flow, which doesn't always mesh perfectly with the demands of life.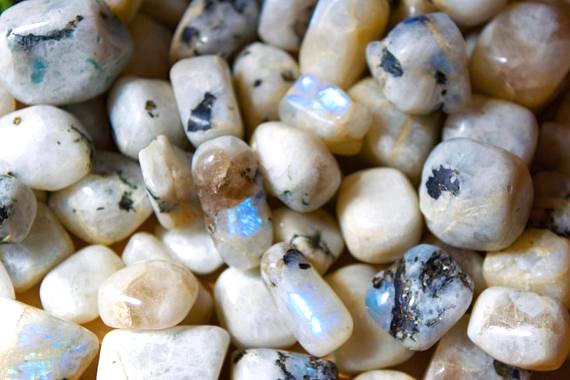 Because of its connection to the moon, this stone rocks at soothing emotions during that time of the month. The Moonstone crystal healing properties are the best stones for balancing hormones and providing support during periods of hormonal change such as puberty or menopause. 
Energy: Receptive
Element: Water
Planet: Moon
Signs: Cancer, Libra, Scorpio
Chakra: Sacral, Heart and 3rd Eye
Diana, Selene, Isis, All Lunar Goddesses
Powers: Love, Divination, Intuition, Youth, Fertility
Candle Color: Silver

Antiqued Sterling Silver Teardrop Studs 
with 7x5mm Moonstone Cabochons from India 
Moonstone helps to open up the heart chakra, which allows us to be more receptive and in touch with our inner feelings.

 

It reminds you to love openly and without judgment, because when you reach for the moon and the stars, the universe will always catch you. Always trust that it will guide your heart towards light and love, the medicine to heal the world. Call on it's energy to unlock the Inner Goddess that exists deep within your spirit and channel the brilliant white illumination of moonbeams shining light on your pathway to balance and harmony.
Like the Apache proverb says, "May the sun bring you new energy by day, may the moon gently restore you by night…and may you walk gently through the world, knowing its beauty all the days of your life."