Herbal Body Bars
Revitalize and uplift your mind, body and soul with our deep, earthy and grounding fragrances.  Our aromatherapy herbal body bars are made with premium quality, natural ingredients.  They are healthy for all skin types and excellent for those who suffer from skin disorders or chemical sensitivities, as we do not use synthetic ingredients.  We make them in small batches using no heat (cold pressed) to ensure that the healing properties of each ingredient is retained at its' highest potency.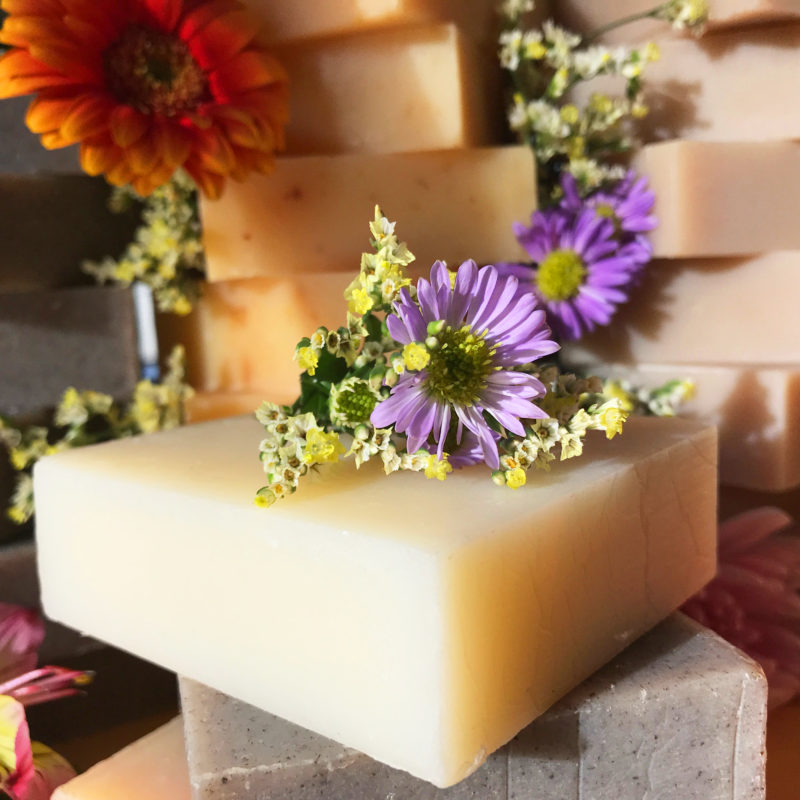 Ingredients: Water, Olive Oil, Coconut Oil, Palm Kernel Oil, Soybean Oil, A Blend of 100% Pure Essential Oils and Organic Cocoa Powder 
100% Natural 
Vegan
Gluten Free
Paraben Free
GMO Free

Frankincense & Myrrh contains anti-aging properties and helps soothe chapped or cracked skin.  Beneficial for fading of stretch marks and surgery scars.
Soulful Benefits:  Enlightenment, Inspiration, Calm, Peace, Healing, Protection, Spirituality
Hemp increases the elasticity of the skin and brings new life to dry, tired or dehydrated skin.  It balances oil production.  Great treatment for eczema and dry, itchy skin.  And, it alleviates redness and irritation of acne outbreaks.
Soulful Benefits:  Vision, Opens Up the Mind, Serenity
Almond & Oatmeal is such a great combo for 'combination skin'.  While the oatmeal soothes the skin, the almonds help exfoliates.  This mix is calming to either dry or oily skin. Oatmeal absorbs extra oil from the skin without drying it.  Almond alleviates dryness and moisturized the skin without overdoing it.  It's the perfect balance.
Soulful Benefits:  Wisdom, Prosperity
Rosemary has rich anti-oxidant properties and helps undo damage done to your skin by pollution, UV rays and chemicals. Helps reduce itching and inflammation and can be used to calm eczema and heal psoriasis. Great for soothing sunburn.
Soulful Benefits:  Clarity, Energy, Upliftment, Healing, Purification
Lavender has anti-inflammatory and antiseptic properties that can fight the bacteria that causes acne and inflammation. It relieves itching and helps reduce the symptoms of eczema. Great to use before bedtime.
Soulful Benefits: Uplifting, Restorative, Calming, Happiness, Love, Peace, Protection, Purification
Lemongrass is perfect for getting glowing skin. It can sterilize your pores, serve as a natural toner, and strengthen your skin tissues. Recommended for oily or acne prone skin.  Great to use in the morning.
Soulful Benefits: Balance, Calm, Uplifting, Repels Negativity, Cleansing
Patchouli contains wound healing and scar reducing properties. It is great for those who suffer from dermatitis, eczema, acne and dry skin.
Soulful Benefits: Wisdom, Stimulation, Aphrodisiac, Grounding, Motivation
Peppermint acts as a refreshing skin tonic and cools down inflammation caused by skin blemishes and acne.  It also relives itchiness and irritation when used in moderation.
Soulful Benefits:  Vibrancy, Healing, Purification, Regeneration
Sandalwood tones and relieves itching, inflamed and dehydrated skin. Rashes, scar tissue, eczema, psoriasis and acne are issues it can assist with.
Soulful Benefits: Harmony, Peace, Serenity, Healing, Protection, Spirituality
Cedarwood has anti-fungal, antibacterial and astringent properties.  Soothes the skin and minimizes the effects of eczema.  Alleviates redness caused by acne and helps reduce dryness, itching and inflammation.  Great to use before bedtime.
Soulful Benefits: Rebirth, Regrowth, Healing, Protection, Purification
Turmeric contains antioxidants and anti-inflammatory components that help revive your skin by bringing out its natural glow.  It also helps reduce acne and any resulting scars.
Soulful Benefits: helps cleanse the chakras
Eucalyptus is a natural antiseptic with antibacterial properties making it highly effective in treating acne, rashes and skin infections. It is also great for muscle soreness
Soulful Benefits:  Balance, Centering, Concentration, Healing, Visions
Cinnamon improves fine lines by plumping the skin. This means that using cinnamon can stimulate blood vessels and bring blood to the surface of the skin.  It contains anti-inflammatory properties making it beneficial for arthritis.  Also great for pimples, eczema and skin infections.
Soulful Benefits:  Prosperity, Protection, Love, Happiness