During the 1990s, Stretch and Bobbito introduced the world to an unsigned Nas, Biggie, Wu-Tang, and Big Pun, as well as an unknown Jay Z, Eminem, and the Fugees. The total record sales for all the artists that premiered on their show exceed 300 million. The late-night program had a cult following in the art/fashion world and prison population as well. All would loyally tune in for the offbeat humor just as much for the exclusive tunes. Stretch and Bobbito brought a unique audience together, and created a platform that changed music forever.
Directed/Written by Bobbito Garcia
Produced by Omar Acosta
Co-Produced by Bobbito Garcia & Adrian Bartos
Executive Producers: Nick Quested & David Kennedy
Edited by Emir Lewis & Mariah Rehmet
Music Supervision by DJ Stretch Armstrong
98 minutes. Saboteur Media, 2015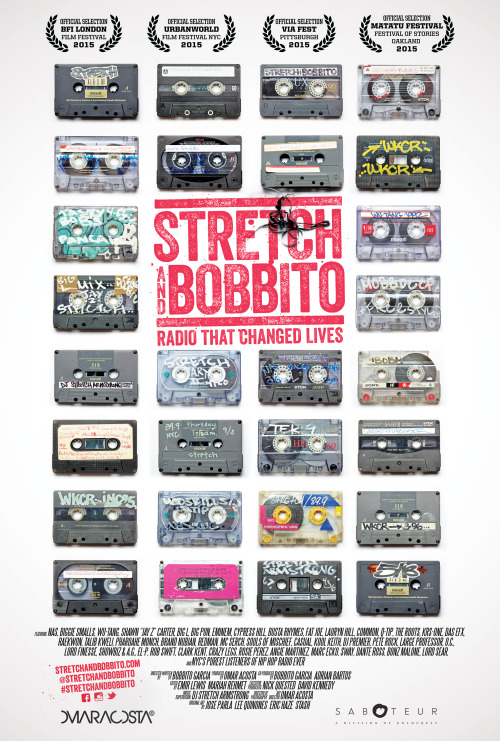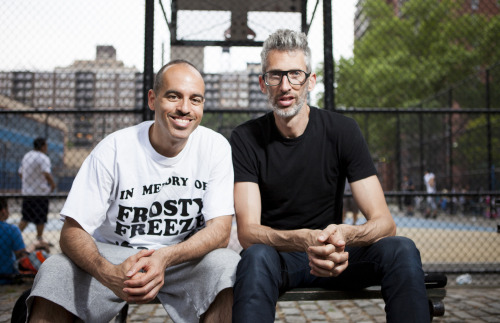 NYC native and world-renowned DJ Bobbito Garcia is the critically acclaimed author of Where'd You Get Those? NYC's Sneaker Culture: 1960-1987 (Testify Books). The former NY Knicks/MSG Network halftime reporter was the voice of EA Sports' popular NBA Street video game and TV host of ESPN2's "It's the Shoes" series. In 2007, Nike released seven co-designed Air Force 1 sneakers bearing his signature. In 2013, Garcia co-directed the film Doin' It In The Park: Pick-Up Basketball, NYC. Currently, "Kool Bob Love" is the announcer for ESPNU's Elite 24 Game and his own tournament Full Court 21™.
NYC native Adrian Bartos p/k/a Stretch Armstrong is an internationally recognized DJ with an incomparable career. The 1990s hip-hop legend programmed the "Stretch And Bobbito" radio show, which received high praise from the NY Times and was recognized as "The Best Of All-Time" by the Source Magazine. Stretch produced artist Lil' Kim's first single off of her platinum selling debut album, collaborated with Jay-Z and Eminem, music supervised the film Boiler Room, and made national television appearances on the "Arsenio Hall" and "Conan O'Brien" shows. As a club DJ, the progenitor of "open-format" (incorporating a multitude of musical genres) has spun in 20 countries for clients including Calvin Klein and Red Bull. Currently, Stretch consults brands via his Music Dept platform, and contributes a column on cassette culture to Medium.com's Cuepoint.
Omar Acosta studied fine art, photography and illustration at The Art League of Old San Juan (Puerto Rico) and Parsons School of Design (NYC). His earliest clients included Nickelodeon and Saatchi and Saatchi. In 2002, Acosta became Art Director at MTV Latin America. In 2008, the recipient of multiple PromaxBDA Awards provided creative design inspiration on the Microsoft Surface project, a unique multi-user/multi-touch interaction experience. The results included several patents as well as an appearance on Warner Brother's "Extra News" program. Acosta currently runs Omar Acosta Productions, producing cutting edge work through time-based media on projects for VH1, NBC, Disney, and feature films.
Nick Quested is Executive Director of Goldcrest Films, which has been key to the financing of projects such as Twilight, Revolutionary Road, and 2012's Academy Award winning, The Iron Lady. Nick was the producer of Elvis & Anabelle, which was directed by Will Geiger and starred Gossip Girl's Blake Lively and Max Minghella. Nick's credits as an executive producer include, The Winning Season; Restrepo (Sundance Grand Jury Documentary Winner); Homework (Sundance Narrative Selection); On The Ice (Berlinale Crystal Bear Generation 14Plus and Best First Feature Winner); Cheerful Weather for the Wedding; The Girl, and Dark Horse (starring Christopher Walken and Mia Farrow). Nick is currently directing Con Artistes, a documentary about the theatre program in Sing Sing Prison.
Contact: [email protected]
Twitter @stretchandbob
Instagram/Facebook @stretchandbobbito